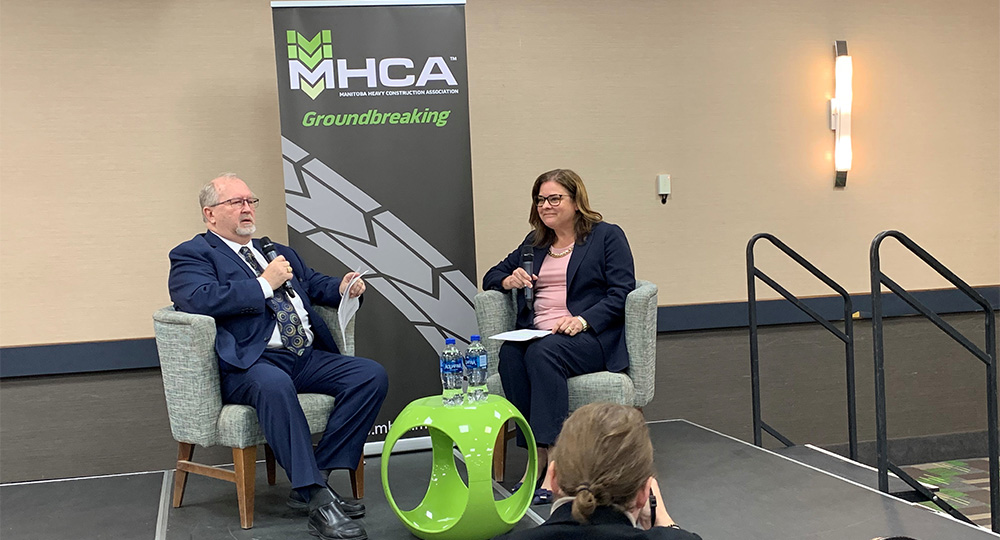 Manitoba Premier Heather Stefanson said she will work with her premier colleagues to solidify support for a National Plan for Trade Corridor Infrastructure at July's Council of the Federation meeting, which she will chair in Winnipeg.
"Our government is proud to advocate for trade enabling infrastructure at the national level," Premier Stefanson said at the MHCA Breakfast with the Leaders event April 11.
She noted that in January, she "joined business and industry association leaders from across Canada… to call on the federal government to develop a National Infrastructure Strategy.
"In my role as Chair of the Council of the Federation representing all Premiers across Canada, Manitoba will be a leader in this initiative and national strategy moving forward. Together, we will get our commodities and products to market more efficiently than ever before."
Stefanson at the January meeting with the Canadian Chamber of Commerce, Business Council of Canada, Canadian Construction Association, Canada West Foundation and the Western Canada Roadbuilders & Heavy Construction Association, firmly committed to working with her premier colleagues on the Council of the Federation to see a trade corridor strategy adopted nationally.
This includes championing a call for the federal government to adopt the strategy, building on the foundational steps outlined in the Canada West Foundation report (May 2022) From Shovel Ready to Shovel Worthy. The report notes Canada is alone among its trade nation peers to not have adopted such a strategy, laying out the criteria for and prioritization of trade infrastructure projects for significant investment, as well as lining up 20 or 30 years of projects to anticipate the needs of future growth in global trade markets.
Following on the heels of the breakfast address, Manitoba Transportation and Infrastructure Minister Doyle Piwniuk announced the signing of a memo of understanding with his counterparts in Alberta and Saskatchewan, to work together on planning and investment in trade routes across the jurisdictions.
"Manitoba's unique gateway and hub initiatives cannot develop in isolation, that is why external co-operative partnerships will leverage our initiatives for success," said Piwniuk.
"With similar trade and transport access such as distance to markets, reliance on international ports and railway services, and similar commodity basis, Saskatchewan and Alberta are natural partners to work with on improving trade through transportation."
"The world needs what Saskatchewan has to offer," said Saskatchewan Highways Minister Jeremy Cockrill. "We rely on dependable, robust, road, rail, air and port networks to ship our food, fuel and fertilizer across North America and around the globe."
"Alberta is proud to partner with Saskatchewan and Manitoba, taking a leadership role in building new trade corridors that will help our provinces and our country," said Alberta Transportation and Economic Corridors Minister Devin Dreeshen.
The MOU will promote co-operation on matters such as improving joint highway planning, efficiency measures supporting trade, joint advocacy on federal regulatory and funding issues impacting prairie transportation-based trade, and assessing private-sector investments and Indigenous partnerships in improving or developing new economic corridors, the government news release about the MOU said.
WCR&HCA President & CEO Chris Lorenc said the premier's address, along with the MOU Manitoba, Saskatchewan and Alberta signed give further evidence provincial governments understand the critical role that trade plays in economic growth and that the corridors and gateways move people to jobs and goods to market.
"Premier Stefanson was quick to commit to working with her colleague premiers, at the Council of the Federation and by the investments made here in Manitoba, in a campaign to see the federal government adopt a national trade infrastructure strategy," Lorenc said.
"This movement is picking up significant support across the offices of Premiers and among national business groups. Growth in trade is our best economic leg forward."